Think you know the Bahamas?
Abaco Beach Resort reintroduces you to some of the most delightful, unexpected and authentic Bahamian experiences for you and your guests.
Your Wedding
Picture a small, intimate island resort in the Bahamas, that offers you and your guests an authentic island experience for your destination wedding.
Choose from multiple beachfront and beach view wedding locations to exchange your vows, reception venues with breathtaking views.
To ensure your wedding day is flawless, unique and stress-free, Abaco Beach Resort is proud to offer Aisle Society Weddings packages.
The Aisle Society includes some of the world's top wedding tastemakers, who have hand selected a authentic design details that guarantee you'll have a beautiful and tasteful destination wedding.
Your guests will delight in locally-sourced materials, food, customs and experiences that create a truly unique and authentically local experience for modern couples planning their destination weddings.
Your Experience
We specialize in creating, unique experiences and memories.
Imagine being whisked away by boat to a private island for a chef prepared a romantic, sunset dinner or indulging with a relaxing massage in an overwater bungalow?
You and your wedding guests can explore the islands by boat during a private island bar crawl, can catch your next meal on a fishing charter, watch sea turtle dart by in the crystal clear waters and even swim with wild pigs!
Abaco Beach Resort
Located close to Florida, Abaco Beach Resort and Marina offers an intimate experience in the Bahamas, complete with a private beach, on-site restaurant, swim up pool bar, tennis courts and complimentary paddleboards and kayaks. Our historic resort features the largest marina on island, on-site dive shop, eco tours and...
Get Details and Pricing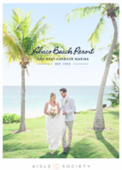 Download our Aisle Society Weddings at Abaco Beach Resort Wedding Guide for details and pricing.